Plastic extrusion is a high-volume manufacturing process in which raw plastic material is melted and formed into a continuous profile.
Plastic extrusion is a high-volume manufacturing process in which raw plastic material, often in the form of pellets, is melted and formed into a continuous profile. This technique is commonly used to produce items such as piping, tubing, weather stripping, fencing, deck railings, window frames, and plastic films.
The process involves feeding the plastic material into a heated barrel, mixing it up, and forcing it through a die to shape it into a particular form. The plastic then cools and hardens, retaining its shape as it is cut to the desired length.
This article will delve into the specifics of plastic extrusion, including its various types, the materials used, its advantages, and its vast applications in construction.
Key takeaways:
Plastic extrusion is a high-volume manufacturing process for shaping plastic.
It involves heating, shaping, cooling, and cutting the plastic.
Types of extrusion include tubing, blow film, sheet film, and over jacket.
Materials used include PVC, HDPE, PP, LDPE, and PS.
Advantages include high-speed production, design flexibility, affordability, structural integrity, and sustainability.
What You Will Learn
Definition of Plastic Extrusion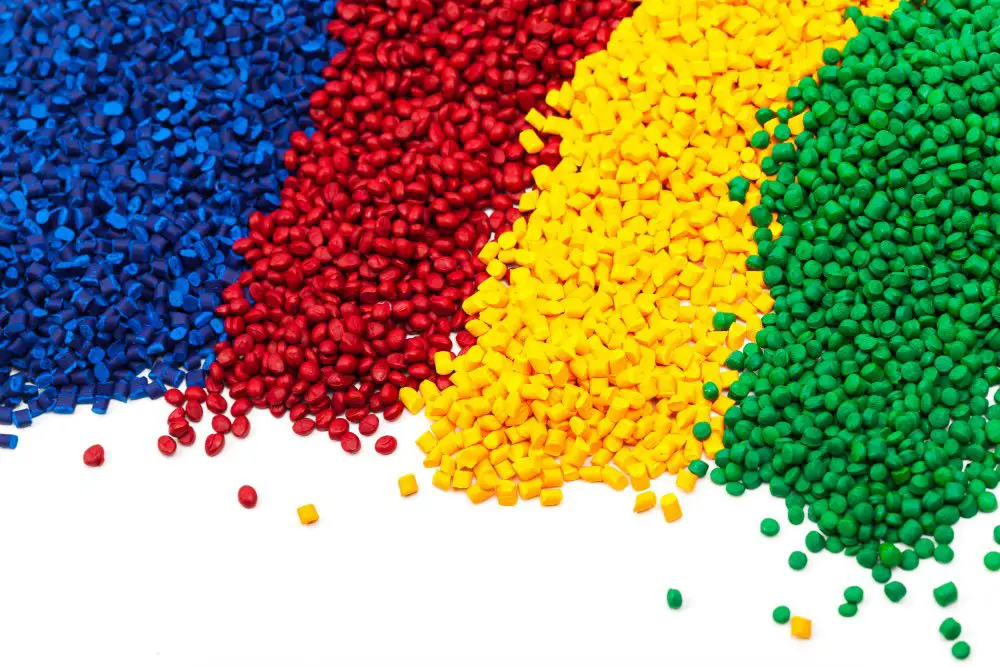 Plastic extrusion is a high-volume manufacturing process wherein raw plastic material is melted then formed into a continuous profile. It is how plastic shapes such as pipes, seals, and plastic sheeting are made.
It involves several steps:
Pre-drying: The plastic pellets are typically dried in a hopper before processing. This removes any moisture that could cause defects in the final product.
Melting: The dried pellets are fed into an extruder. The extruder's barrel has a large screw thread that turns, heating and pressurizing the plastic to a molten state.
Shaping: Once melted, the plastic is forced through a die – a shaped hole – that gives it its final shape. The types of shapes created depend on the specific type of extrusion process used.
Cooling: The extruded plastic is cooled, typically by air or water, so it retains its new shape.
Cutting: After cooling, the plastic is cut to the desired length, finishing the extrusion process.
This represents the basic journey of plastic extrusion, from raw pellets to finished product. Each step along the way offers opportunities for manufacturers to create a wide variety of shapes and dimensions, catering to a multitude of different construction applications.
The Process of Plastic Extrusion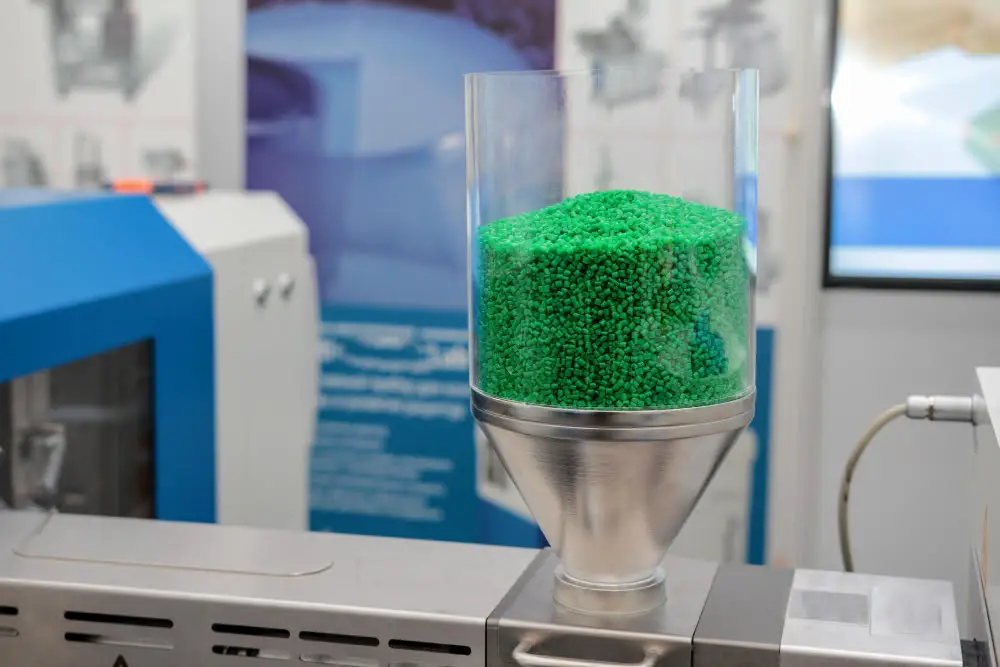 Extrusion begins with a collection of raw plastic materials, known as resins or pellets. These are fed into the inlet of an extruder, a machine driven by a motor. The extruder heats the plastic to its melting point and mechanically manipulates it. Meanwhile, the motor powers a rotating screw, which pushes the liquefied plastic through a shaping die.
As the heated plastic exits the die, it takes the die's shape, forming a continuous profile. This profile is cooled, either by air or water, to solidify it. The final step involves cutting the profile into desired lengths or winding it onto a spool for later use.
Key to note–
Type of plastic: Determines melting point and the necessary cooling method.
Screw design: Impacts efficiency and quality of final product.
Die design: Shapes the extrusion profile and affects the product's final dimensions.
Cooling process: Ensures the profile holds its shape and achieves desired properties.
Cutting or reeling: Makes product ready for packaging or further processing.
Types of Plastic Extrusion: Tubing, Blow Film, Sheet Film, Over Jacket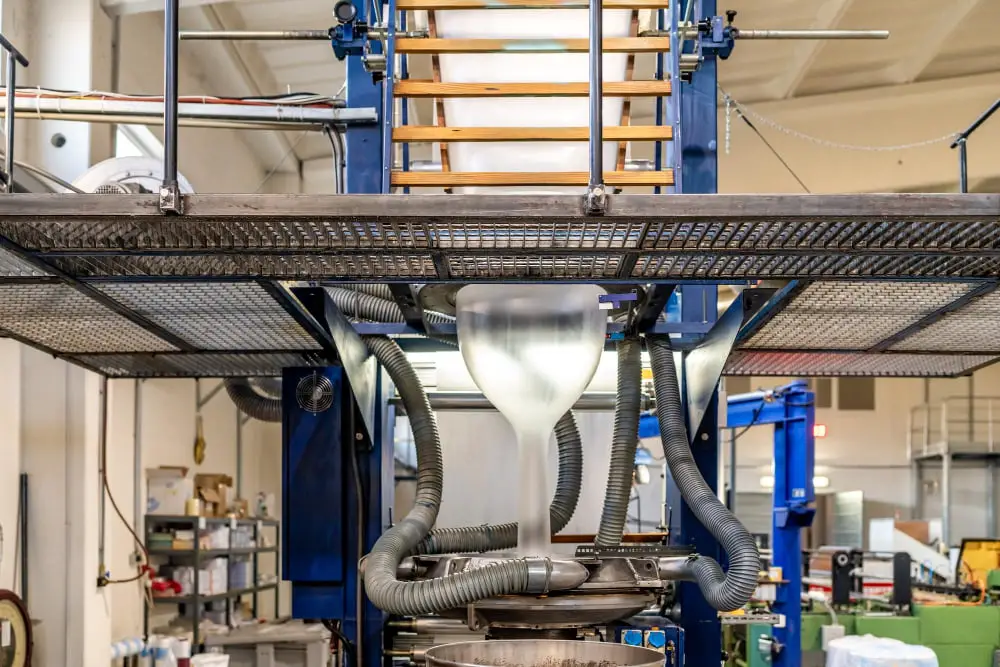 Tubing is the most common type of extrusion, widely used in the construction industry for plumbing purposes. This method involves forcing the molten plastic through a die, which shapes it into a tube.
Blow Film extrusion, on the other hand, is best suited for producing materials like shopping bags and packaging films. The process involves forming a tube by inflating the hot plastic and then cooling it down to create a thin, strong film.
Sheet Film extrusion is a method that creates larger flat plastic sheets. These sheets can be used in a variety of applications, from automotive components to greenhouse coverings.
Over Jacketing extrusion is used to create a secondary protective layer over an existing product, such as an electrical wire. This not only provides protection but adds additional properties to the product, like water resistance.
Regardless of the type of plastic extrusion, the process involves four key steps: plastic pellet selection, heating and melting, shaping through the die, and cooling. The plastic's properties and the chosen method directly determine the final product's quality, shape, and application.
Typical Materials Used in Plastic Extrusion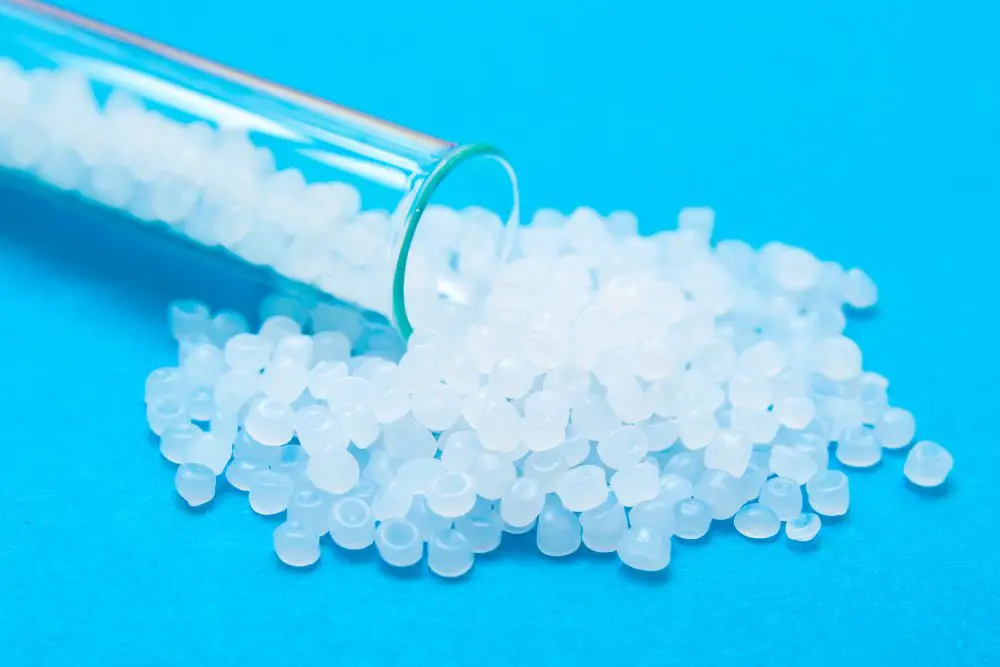 Various types of materials serve their unique purposes in the plastic extrusion process:
Polyvinyl Chloride (PVC) is commonly used due to its high resistance to oxidation and degradation. It also boasts impressive rigidity and strength, contributing to a highly durable final product. PVC is extensively used in construction materials such as window frames and pipes.
High-Density Polyethylene (HDPE) provides excellent impact resistance and tensile strength. This material is a popular choice in manufacturing sturdy items like containers and plastic bottles.
Polypropylene (PP) is known for its high melting point and thus its ability to withstand high temperatures without losing shape. It is commonly used in automotive parts, dishwasher-safe containers and carpeting.
Low-Density Polyethylene (LDPE) stands out for its flexibility, making it a favorite for applications such as shopping bags and squeeze bottles.
Polystyrene (PS) provides a glass-like transparency and rigidity. Hence, it is the material of choice for products that require a clear and stiff plastic, such as disposable cutlery, CD cases, and vending cups.
To ensure successful plastic extrusion, it's essential to select the appropriate type of material based on the intended use of the final product. Different polymers will offer unique qualities, performance, and aesthetics. Ultimately, the choice of material should align with the specific requirements and constraints of the project in question.
Extrusion Equipment: Different Types of Extruders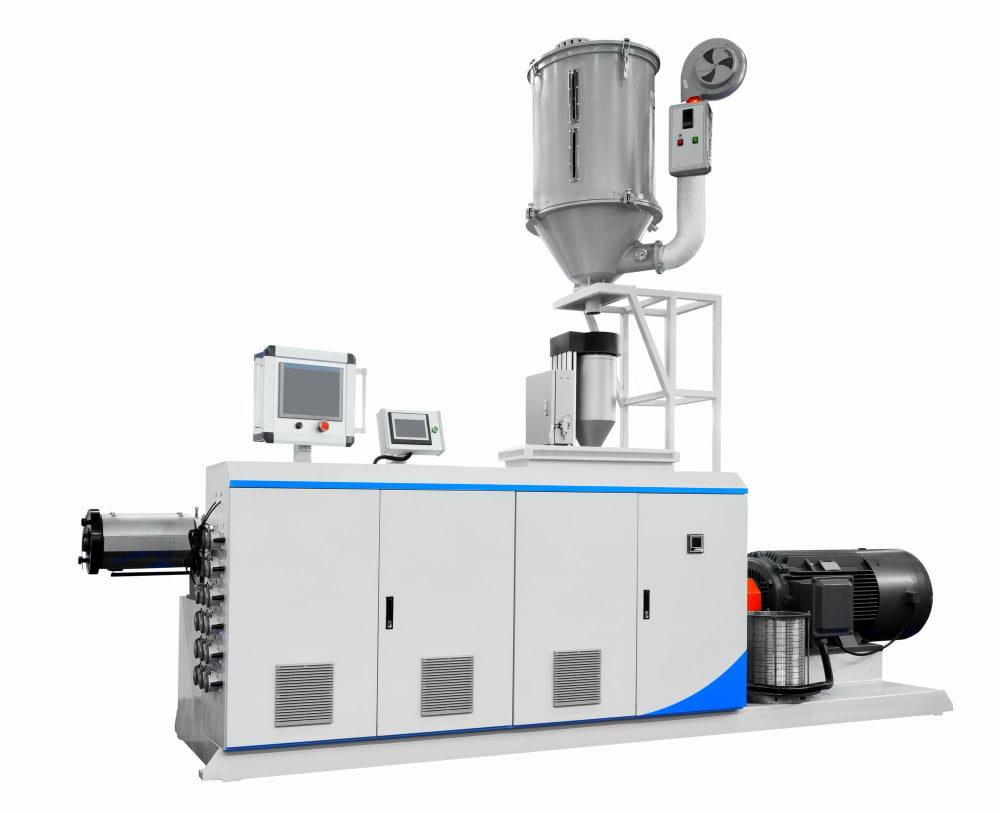 Extruders feature as the core of the extrusion equipment. With an array of variants, let's explore the commonly used types:
The Single Screw Extruder is one of the most widely used, as it's robust and versatile, typically applied in creating plastic pipes, fittings, and sheets. The fundamental component is a single heated screw that turns inside a cylindrical barrel, effectively melting and pumping the polymer.
Next in line is the Twin Screw Extruder, designed with two co-rotating or counter-rotating screws within a single barrel. This design is prime for mixing or compounding plastic or polymer materials, offering an elevated level of productivity and mixing efficiency.
A unique model that highlights the group is the Ram Extruder – it shoves solid plastic material into a heated barrel using a hydraulic press or ram. It's useful in handling heat-sensitive materials safely.
Another key extruder type lies with the Plastic Sheet Extruder that are employed specifically for creating plastic sheets in several variants, such as flat, corrugated, or multiwall sheets.
Diverse in their application and functionality, understanding these extruders is a significant stepping stone, particularly in construction where polymer materials are becoming exceedingly utilized.
Advantages of Plastic Extrusion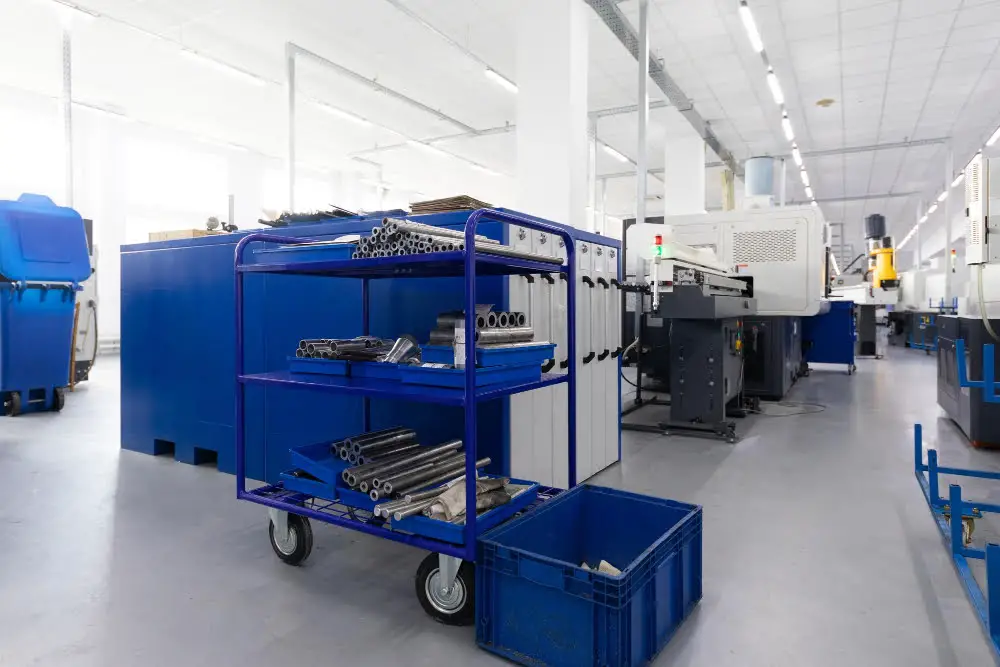 In terms of efficiency, plastic extrusion stands out as it allows for high-speed production. This process is capable of generating high volumes of plastic components in a relatively short period, meeting the demands for large-scale construction projects. Moreover, the process is continuous, which means there is no break or pause in production unless necessitated.
With flexibility in design, plastic components of varying shapes, sizes, and lengths can be fabricated. From intricate profiles for window frames to large diameter pipes, extrusion accommodates a wide variety of designs. This is crucial in construction, where diversity in material size and shape is commonly required.
Affordability is another significant advantage. The process requires less material than other techniques, reducing the overall cost of production. This factor is vital in construction projects where budgets are often tight.
The plastic extrusion process also maintains the structural integrity of the materials. The heating, shaping, and cooling process keeps the plastic's inherent properties intact, providing robust and durable components for construction.
Last but not least, plastic extrusion contributes to sustainability. Waste and leftover materials from the extrusion process can be recycled and reprocessed into new products, supporting environmentally friendly construction practices.
Understanding the Complexities of Plastic Extrusion in Construction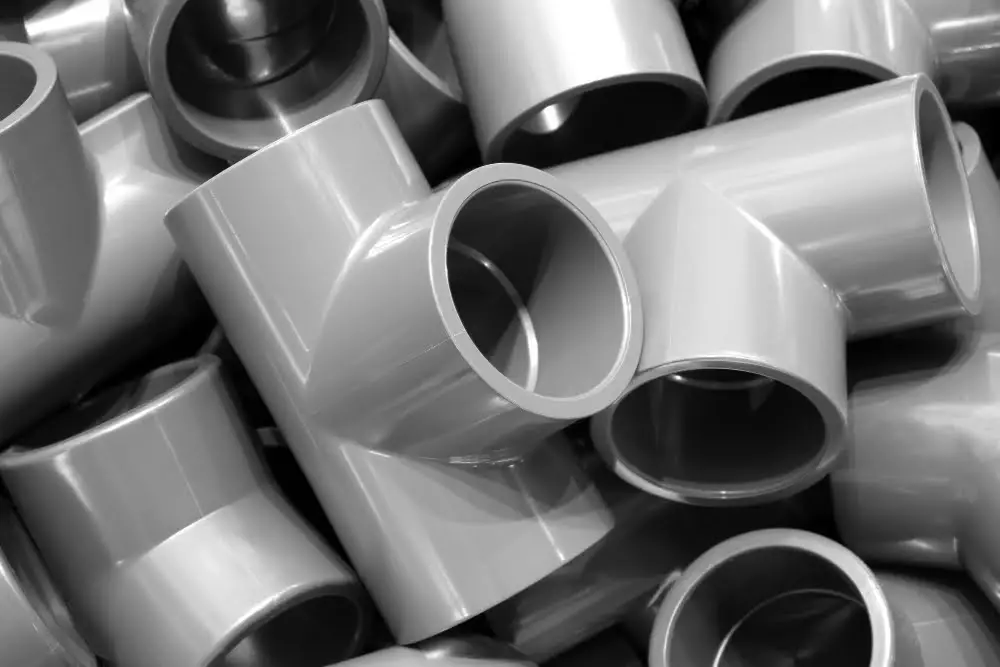 In the realm of construction, plastic extrusion is a complex process. Such intricacies translate into enhanced functionalities for various construction materials.
Primarily, it enables the creation of plastic profiles with varying shapes and sizes. From windows, doors to pipes and seals, the range of applicability is far-reaching.
Deciding upon the right extrusion process depends on many factors which include the end product requirements, the type of plastic, and the production volume. Taking these aspects into account ensures optimal results.
The durability of plastic components is another key factor to consider. Extruded products typically offer increased resistance to environmental factors like weather and ultraviolet radiation, thereby boosting their longevity.
Moreover, the process can be automated, making it ideal for large scale production. These automated systems improve efficiency while maintaining high-quality standards.
Lastly, waste minimization enhances the eco-friendliness of the process. Any leftover material from an extrusion process can be recycled and extruded again, thereby reducing waste and promoting sustainability.
Remember, understanding the complexities of plastic extrusion is not just about the process but also appreciating its influence on construction and its wider societal implications.
FAQ
What is the meaning of plastic extrusion?
Plastic extrusion is a high-volume manufacturing process where raw polymer material is melted and shaped in a continuous process.
What is the function of plastic extrusion?
The function of plastic extrusion is to melt raw plastic and shape it into a continuous profile, which is then cut to length, facilitating the production of a wide range of shapes and channels.
What is the difference between plastic injection and plastic extrusion?
Plastic injection is a process that produces three-dimensional shapes, while plastic extrusion is used to create continuous linear, two-dimensional shapes.
What is extrusion process?
Extrusion is a technique in which a material is forced through an orifice or die, causing it to deform plastically and adapt to the cross-sectional contour of the die, thus retaining the shape in the final product if the material's properties permit.
How does temperature affect the plastic extrusion process?
Temperature plays a critical role in the plastic extrusion process as variations can impact the viscosity, flow rate, and physical properties of the final product.
What essential equipment is needed for successful plastic extrusion?
Essential equipment for successful plastic extrusion includes an extruder machine, resin pellets, a die, a cooling system, and a cutter or winder.
What are the common types of polymers used in plastic extrusion and why?
The common types of polymers used in plastic extrusion include Polyethylene (PE), Polypropylene (PP), and Polyvinyl Chloride (PVC), primarily due to their varying densities, durability, and resistance to different temperature levels and atmospheric conditions.
Related reading: